If your firm has invested in search engine optimization (SEO), you are already one step ahead of the competition and have enjoyed its benefits. Your website is receiving more traffic, visitors are spending more time on it, and other metrics indicate that it is highly optimized. Now it's time to use one of the most effective and quickly expanding forms of digital marketing like local SEO in Kenya, to take your web presence to a whole new level.
97% of users searched online to find a local business
Every month, searchers visit 1.5 billion locations related to their Google searches
A purchase follows 28 % of all local searches
78% of local searches on mobile result in an offline purchase
What is Local SEO? How Does Local SEO in Kenya Impact your Business?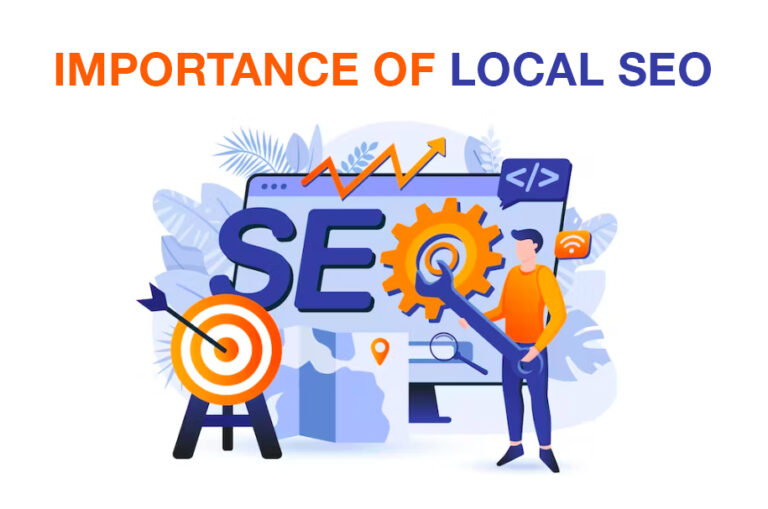 Local SEO is the process of adapting strategies for SEO for a geo-targeted audience. Local SEO helps to increase the visibility of your company on location-based searches. Its goal is to ensure that customers looking for your business in that area find it online.

These include queries that contain specific geo-qualifiers, such as city, state, zip code, and "near me" queries, in which Google detects the user's location and returns search results for that region. But when it comes to your website, not every form of traffic is the same. If the traffic is the wrong kind, no amount of it will help your business expand.

What kind of traffic is required for your business then? Users who conduct local searches use phrases and keywords that are specific to their geographic location. Keywords to search that have been shown to signify a high level of commercial and purchasing intent in their users. Let's talk about the benefits of local SEO in Kenya but first, let's look at the best hotel digital marketing company.
Are you looking for the best SEO prices in Kenya? The local SEO experts in Kenya at Prolyft Digital Solutions will put your local business on the map without burning a hole in your pocket. We improve the information on your Google My Business listing. When using a location search, these show up as maps in the search results. Your local business will receive more customers by being at the top of the map results thanks to our effective SEO services.
Our highly-trained team ensures that your website has a stunning user experience, killer conversion rates, and high-quality traffic from local SERPs. We offer full-service SEO services that will give you measurable rankings in 3-6 months with monthly tracking reports as well.
10 Key Benefits of Local SEO in Kenya for Small Businesses
Image credit – Rakesh Sharma, Medium.
1. Increase your online visibility
Image credit – digitaltrails.co.uk.
With local SEO in Kenya, you can increase the visibility of your firm by making sure that the right customers are finding you when they're looking for what you have to offer. Increased visibility for your firm translates into increased revenue and profits.

Finding more customers is the greatest benefit of search engine optimization in Kenya. The primary goal of SEO is to optimize your business ranking in search results. More people who have the potential to become customers are attracted to your online business profile as a result.
2. Improve traffic & conversions
SEO in website or your online profile increases the volume of visitors. Even though all the traffic won't result in sales, more traffic means more engagement. Your chances of selling your product increase as more people visit your website. More traffic results in organic word-of-mouth marketing for your firm as well.

Your conversion rates will increase if you invest in local SEO in Kenya. The main reason for this is that SEO attracts targeted traffic that is already interested in your product. As a result, there are more chances for sales, which leads to a higher conversion rate.
3. Get ahead of your competition
Imagine there are two firms competing to sell the same product in a certain area. One, however, has a local SEO presence that is optimized, whereas the other still only use traditional marketing methods. Which one do you believe will see a surge in business in this age of digital media? Proper SEO benefits your firm to gain a long-lasting competitive advantage that propels your position far ahead of rivals in the market.
4. Create brand awareness
Image credit – MAD Group.
Your firm will mostly appear at the top of search results for customers using specific keywords tool. Your brand awareness will grow as more people notice the results. Brand awareness measurement can be done on the basis of traffic, search volumes, and more. In the future, they are also more likely to click on your website or actively search for you.
5. Achieve lasting rankings
Image credit – SEMupdates.
SEO results last a long time, in contrast to traditional marketing where the impact of ads only lasts for a short time. Once you are ranked in the SERPs, you are likely to stay there for a long time even though you must maintain all the latest data to maximize your local SEO in Kenya. Although it is not always guaranteed, you will achieve long-lasting search engine rankings as long as you maintain all of your efforts.
6. Measurable results will boost business growth
Data is king in today's business and marketing world. One of the most vital ways to advance your business is to have accurate data and to analyze it for useful insights. Local SEO gathers crucial data about the features of your website and gives you a proper understanding of how you can enhance it. Thus, SEO in digital marketing gives you measurable data that you can use to further boost your bottom line.

Local SEO efforts are always focused on boosting traffic and search engine rankings. Better sales and marketing leads are the result of this. More interested customers are attracted by improved sales, which starts a self-sustaining cycle of business expansion. So, if you want to expand your business, investing time and money in local SEO strategies is the key to success.
7. Reduce the cost of acquisition
Image credit – LeadSquared.
When comparing SEO's low cost to other marketing initiatives like ads, it has many benefits. If you can do it yourself, the majority of it is free. However, your best option is to hire a top-rated SEO company in Kenya to assist you if you lack the expertise to create website codes.
This is a wise investment in the growth of your brand. Is it difficult to find a digital marketing company in Kenya that helps you with SEO? Look no further than Prolyft Digital Solutions.
8. Make a user-friendly website
Image credit – techfriend.in.
How search engines work and how your website comes on top of the rankings is no mystery. Most search engines consider a better user experience on your website to be a sign of improved SEO. If your website is user-friendly and provides relevant data, it will rank higher on Google. In the end, a user-friendly interface brings in more customers, which increases profits as well.
Image credit – Tenor.com.
Local SEO in Kenya enables you to draw in various customers, such as those traveling locally from a distance. When you offer a customer temporary services, they are more likely to return and establish a long-term business relationship. By doing this, you increase your sales from one client to hundreds of clients.
10. Build links with nearby businesses
Since you steadily appear on websites when you use local SEO in Kenya, you can maintain competition with other local businesses. Like a local firm might want to cross-promote its goods with another firm operating in the same area. This firm will quickly locate you if you are listed locally.
A firm is more likely to mention you in one of its posts if they are aware of your business. You can even receive recommendations from their clients. This increases your customers and improves your business links.
10 Ways to Improve Your Local SEO in Kenya
So, how do you reap these benefits? Below is the step-by-step guide to improving your local SEO in Kenya. But don't forget, you will need the best SEO company in Kenya to implement these improvements.
It is the first and the most crucial step to improve your local SEO. In addition to using general SEO best practices, you must take the following actions for local SEO in Kenya to optimize your website.
Read Now: Popular Website Design Trends in 2021
You have to set up your NAP, so it will be easy for people and search engines to find you. NAP means Name, Address, and Phone Number. It is crucial to create a dedicated contact page to give people more detailed data about your best business in Kenya to build trust. If you have multiple locations, you need to add NAP for each location.
Improving your internal linking structure will also help your SEO rankings. It assists with website navigation and data structure, distributes among pages the power of page authority and ranking, and much more.
Image credit – Starbucks.
Create location pages if you have multiple physical locations. Customers can find your name, address, phone number, business hours, special store descriptions, parking details, promotions, and testimonials on location pages. For firms with a single location, write an artful About Us page. You can even receive bonus points if you include Google map data on the location page of your website.
Optimize URL, Title Tags, etc.
When it comes to content, every new blog post is a chance to have your website get indexed, target a local search term, and appear higher in search engine results pages (SERPs). The URL, title, header, meta description, and body of every piece of content you create need to be optimized for search engines by using high-volume keywords.
Image credit – Local SEO Guide.
Testimonials are viewed by Google as a trust signal because they give customers assurance that you are a legitimate company. Gather and prominently display local customers' testimonials on your website to improve local SEO.
To build a common language between the three biggest search engines—Google, Bing, and Yahoo—Schema.org was created. It helps search engines to know what your website is. You can let Google know you're a local business and not some major brand by adding proper Schema markup to your website. This could then improve your local rankings.
2. Use Google My Business
Online marketers in Kenya now focus on their Google My Business profiles. Make sure your firm is accurately listed on major review sites such as TripAdvisor, Google My Business, and Yelp. Google My Business is now the center of every local search. Google My Business is a perfect tool to assist your firm in meeting Google's criteria because Google supports, verifies, and shares its own content.
What's Google 3-Pack? Google presents the top outcomes for a local business search as the Google 3-Pack. It contains three nearby businesses that Google believes are vital, well-known, and close to the user.
For local SEO in Kenya, make a Google My Business page and verify it. Use your account's Google Posts. Encourage your clients to leave online reviews. Respond to reviews while adding your location. Also, don't just do this for local SEO purposes. You can make it easy for potential customers to find you if you have reviewed and updated your contact details and business hours.
3. Engage on social media
Image credit – Direct Line Development.
Online marketing in Kenya is the best tool. You should also create accounts on the social media channels like Facebook, Instagram, etc. where your target audience is active. These profiles will increase your visibility to potential customers. You'll give search engines more details about your firm, which will help to raise your ranking. There are many social media marketing companies in Kenya. Google now places a greater emphasis than ever before on social media content. Sharing your stunning Google My Business page on social media will further integrate search and social media usage. YouTube, being a part of Google is also one of the best social platforms. SEO for YouTube is a strategy for optimizing videos to improve placement in search results.
Citations are mentions of your business name, address, phone number, and website anywhere on the web. Citations are vital for your local SEO efforts and can only be built for real physical locations. Each physical location can have its own unique set of citations. But how can you build citations? Here are some ways.
To verify or update the data in their own indexes, search engines like Google and Bing crawl the web for citations. By adding your firms to websites like Yelp and Hotfrog, you can aid search engines in achieving this.
Local blogs are a great place to list your firm and improve local SEO in Kenya. These blogs are closely related to a specific city or region and are well-indexed by search engines. Search engines will view your company as more credible and relevant than the local search engines as you gain links from these blogs.
Local directories are closely related to a specific region, just like local blogs, and they are well-indexed by search engines. The best directories are those edited by people. They tend to be more trusted by local search engines because they are less prone to spam.
Creating local content is vital to local SEO in Kenya. It is advised to create a blog on your website in case you don't already have one. Host the blog on your website's domain for better results. So, if your blog's search rankings increase, your website's ranking will also increase.
Promote regional industry events, news, employees, and more on your blog to establish yourself as the local authority in your field. You can create content that is different from what your firm sells as well.
6. Make your website mobile-friendly
Over 60% of Google searches take place from mobile devices. People will use your website on mobile devices to look up reviews, get driving directions to your business, and find contact data. In fact, "Near me" mobile searches grew by 136% last year.
Firms must make sure that their local SEO strategies are updated in 2022 to make it possible for customers in the area to find their business. Make your website mobile-friendly to make it simple for your customers. Searching for top website designers in Nairobi? Or the best services like web design in Nairobi? Click below.
7. Get more customer reviews
Image credit – tenor.com.
Now everyone can see right away if you are as good as you claim to be, thanks to the internet and customer reviews. As per recent research, 72% say that positive reviews make them trust a local business more. Potential customers are put off by negative reviews. Reviews are essential if you want to draw in local customers.
Customers also pay attention to reviews because they are regularly displayed in local search results. You will be involved in collecting reviews for the duration of your business. By making your customers happy, you can reduce negative reviews while promoting positive ones.
8. Get inbound links with authority
Image credit – SEOptimer.
SEO link building is crucial! As backlinks for SEO are important so are inbound links. Every inbound link tells Google that you are a trusted business, and inbound links can also increase your domain authority. They are powerful opportunities to boost your local SEO in Kenya. You can achieve inbound links through sponsorships, guest blog posting, scholarships, etc. Start with the people in your network, such as resellers, vendors, and others.

Consider hosting a community event, sponsoring a webinar, etc. to build connections with influencers. Also, you can ask potential partners to list you in their partner directory. Guest blogging can help draw links. Engage in meaningful debate with and about other experts in your field, and serve as a community resource. As a result of your community talks, you attract more inbound links, social media followers, and media attention.
SEO is a constant, logical process. It helps to conduct a thorough audit to determine where your website stands and what needs to be improved in order to reach your goals rather than stopping there or just making changes and seeing what sticks. A review of local SEO in Kenya includes the following.
Google My Business Audit
Search Console Audit
On-page/Off-page SEO Audit
Citation Audit
Website Audit
Competitor Analysis
Once you have audited these areas of local SEO, you can improve your website performance, match up with what rivals are doing, increase your visibility by adding more citations and add more on-page and off-page SEO elements to help rank and optimize your GMB profile even further.
10. Work with your local community
You'll get more online PR as you engage more with your local community. You can generate press, brand awareness, and inbound links by working with a nonprofit on a campaign, hosting a volunteer day at your firm, sponsoring an online event, or appearing as an expert in your field in local media.
3 Best Tools for Local SEO in Kenya
Let's wrap up with a few local SEO tools you might find helpful. If not, you can always work with search engine optimization companies in Kenya.
Image credit – Ahrefs.com.
Ahrefs assists with backlink analysis, which is crucial as these links (pointing at your website) represent the authority of your website. Ahrefs also provides keyword research, competitor analysis, and data on the anchor text used by other websites when linking to your website. Their pricing plans vary from $99 to $999 per month.
Yext is a tool for managing and syncing data across various listings. It's useful for keeping reliability in citations, though you can also do this manually but it will be time-consuming.
3. Google Keyword Planner
Image credit – Google Ads.
Google offers a free keyword research tool called Google Keyword Planner. It is the perfect tool for marketing in Kenya. It's also a good resource for local search volume ranges.
Key Takeaways from Local SEO in Kenya
Local SEO in Kenya is critical to your business success. Investing in local SEO is a proven way to bring your business into the limelight and attract the target audience. You need to improve local rankings to be found online because more people are turning to search engines and online reviews to find what they need. To climb to the top of the local SERPs, you need t optimize your website, create local content, add citations, earn reviews, and much more which includes building lasting relationships with your local community.
Local SEO does not work alone to increase your rankings, you should also use many SEO tools and social media marketing. However, It is not quite easy to implement these strategies and use these tools, and requires a certain level of technical expertise.
Looking for one of the best SEO companies in Kenya? At Prolyft Digital Solutions, we know the importance of local SEO for business growth and have been helping small and big firms to reach their full potential when it comes to digital marketing. Our success stories include popular hotels like Ole Sereni and Villa MB by Xanadu Collection.
Do you want to know more about one of most top-rated digital marketing agencies in Nairobi? Looking for the best SEO consultant? Contact us today to learn more about our SEO services in Kenya and get a FREE consultation for your business!