Your business can gain from SEO, no matter how big it is, or what the location or type is. You can begin performing efficient SEO for your website right away. even with little time or money. In order for your online business to be successful, as a business owner, you must do a little bit of everything.

Knowing how to increase online traffic to your website is one of these things. There are many ways to achieve this, but search engine optimization (SEO) is the most effective one. To rank your website high in search results for your target keywords is the aim of strategies for SEO. By doing this, you can draw highly qualified site visitors who are eager to become your loyal customers.

In order to save you time, let's go over the top 5 strategies for SEO that you should focus on. But it is advised to hire the best digital marketing agencies in Kenya to get the best SEO results as one may lack the technical know-how required. Finding the top online marketing companies in Kenya? Click below.
The Search Engine Market Share in Kenya
Benefits of Strategies for SEO for Business Owners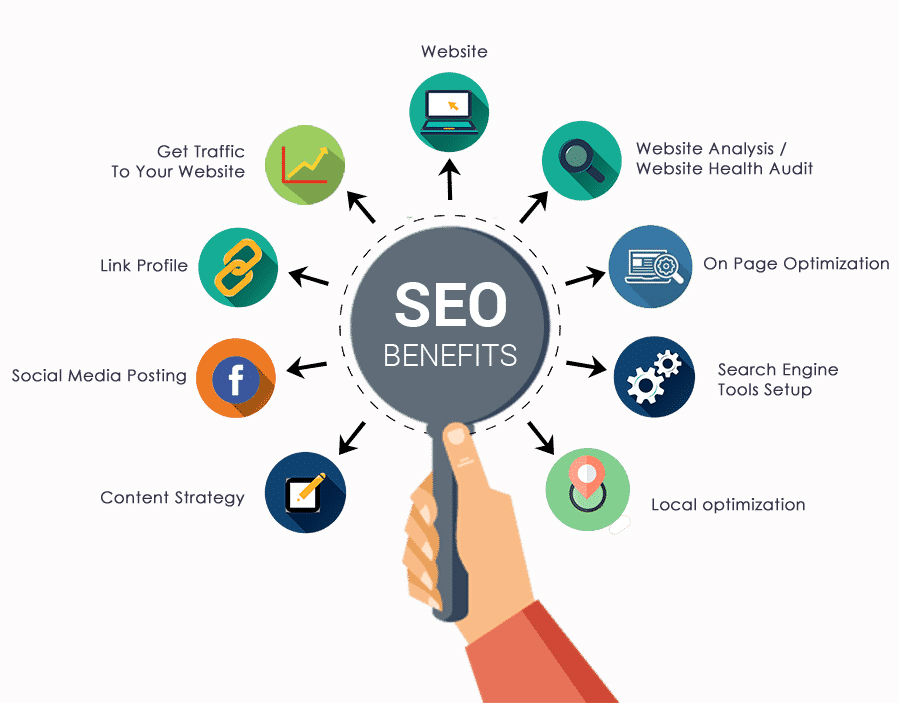 Image credit – https://cems-it.com/
SEO in Kenya is an essential part of digital marketing that can help brands to improve their online presence and increase their visibility in search engine results pages (SERPs). Here are some of the benefits of strategies for SEO for business owners. There are many digital agencies in Kenya but are you looking for the best SEO company in Nairobi? Keep reading.
1. Increased Website Traffic
By optimizing your website for search engines, you can improve your website's visibility in search results. It can lead to more organic traffic to your website.
2. Higher Conversion Rates
Strategies for SEO help to attract targeted traffic and more qualified leads to your website. It means that people who visit your site are more likely to be interested in your products or services. It leads to higher conversion rates and ultimately increased sales.
3. Cost-effective Marketing
Search engine optimization in Kenya is a cost-effective marketing strategy compared to traditional forms of advertising. Once your website is optimized, you can continue to receive traffic and leads without paying extra for ads.
4. Improved User Experience
SEO involves optimizing your website for both search engines and users. By improving your website's navigation, load times, and overall user experience, you can attract and retain more visitors to your website. Strategies for SEO makes it easy for visitors to navigate and find what they are looking for.
5. Increased Brand Awareness
Implementing strategies for SEO can help increase your website's visibility and ranking on search engines. Hence, making it easy for potential customers to find your business. High search engine rankings help to build brand credibility and authority. It can lead to increased trust and loyalty among customers.
By implementing strategies for SEO, you can outrank your competitors in search results and attract more customers to your website. You can increase your market share as well. Searching for the best digital marketing prices in Kenya? Your search ends here.
5 Essential Steps to Boost Traffic with Strategies for SEO
Here are 5 essential steps to boost traffic with strategies for SEO that the top marketing companies in Kenya focus on. Unable to find experiential marketing agencies in Kenya? Read till the end.
Step 1: Research Keywords
Do you want to know what your customers are looking for or are you familiar with tools for keyword research? Research of relevant keywords is a crucial step in optimizing your website for search engines. It involves identifying the phrases and terms that people use to search for products or services related to your business and targeting those keywords in your content.

To find related keyword ideas to your topic and their monthly search volume, use Google Keyword Planner tools as it is free. Keyword research on Google is the most effective way. Use a paid tool like Ahrefs, SEMrush, or Ubersuggest if you want accurate data on how hard it is to rank for a specific search term. It is the most crucial step when making strategies for SEO. Also, SEO with Google is what we recommend for beginners.

Targeting "question-related keywords" should be your main priority if you want to educate your audience and establish your authority. For example, "What hotel management services do I need?" are known as question-related keywords. After the creation of a list of question-related keywords, you can write specific blog posts that address these types of questions.
Step 2: Focus on Content Marketing
Once you've identified your target keywords as the first step of strategies for SEO, you need to optimize your website's content to ensure that it's search engine friendly. This means that you need to include your target keywords in the title, meta description, header tags, and body copy of your content. Looking for content marketing in Nairobi? Click below.
To produce high-quality content at scale, you must create a content strategy after deciding on your keywords. It is not enough to add a few pages and blog posts to your website and anticipate thousands of visitors.

By adding many pages to a single topic, you can increase your website's topic authority. You can make it simple for Google to know what your site is all about, which will help it rank higher in search results. We advise creating a calendar to produce and publish content on your site regularly.

It should be simple for you to manage your content strategy if you use an AI tool like Asana, WebFX, ChatGPT, and more. Last but not least, make sure your writing is strong. To achieve this, instruct your editor to use Grammarly to find and correct any errors. The content marketing benefits are immense. Want a content marketing strategist or searching for content marketing in Kenya? Know more about us.
Step 3: Build On-page SEO
Even if you have the best content in your field, it won't matter in terms of strategies for SEO. If your website's structure and URLs are flawed, you won't be able to draw organic search traffic to your pages. You must first optimize each of your pages for suitable keywords.

Ask your writers to create the content using Surfer SEO's Content Editor feature for achieving this. They should add suggested words and phrases to the content. The article becomes more relevant to your keyword by doing this.

Once the content is published, you must make sure Google visits and indexes your website. Run a technical SEO audit in this situation to find any problems that are preventing Google from knowing your website.

You will be able to conduct a thorough audit without cost by using Ahrefs Webmaster Tools. it provides advice on how to address issues with internal links, site speed, and other issues. You can use Yoast and Rankmath as well.

The most difficult part of on-page SEO is actually putting the changes into practice. Technical website knowledge is required to resolve the problems. To complete the task, you will require help from a web developer. If done properly, you will see improvement in your position on the search engine results pages (SERPs).
Step 4: Improve ranking with Link Building
What is link building in SEO? Building high-quality backlinks is important for improving your website's ranking on search engines. You can build backlinks by creating high-quality content that other websites will want to link to. You can reach out to other websites as well in your industry and request a link back to your website.

Do-follow links help websites share authority with one another. So if you receive a backlink from a reliable website, that website's reputation filters down to your website, increasing its authority. Consult Ahrefs' Domain Rating (DR) to identify website authority. Each site's DR is estimated based on its link profile.

The more powerful a site is, the higher its DR, and the more reasons there are for you to obtain a backlink from it. To improve your chances of receiving a response, you must improve your outreach strategy before requesting a link from that website. Giving website owners a reason to link back to your site is the key.

As a result, guest posting is still one of the best link-building strategies. You offer free content to websites in return for an internal link to your website. The site owners get an article that is well-written and ready for release. And you get a do-follow backlink from a reputable website. It's an ideal situation! So, link building in SEO is crucial than you think.
It can be difficult to complete all of the above tasks on your own without the technical know-how. So it would be best for you to outsource your strategies for SEO. But you shouldn't just pick any consultant or agency and hope for the best. You must be strategic in your approach and select the best SEO companies in Kenya to implement an extensive SEO plan for you.
Looking at an SEO agency's current rankings is one of the best metrics you can use to evaluate its quality. You will find their customer ratings and reviews on their website as well as on trusted review sites like Trustpilot or even Google Business. Make sure to pay close attention to this when trying to find a company to handle the SEO work for you. Which SEO plugin for wordpress should you use? Try Yoast SEO.
Want to work with the top SEO company in Kenya? Prolyft Digital Solutions is one of the best digital marketing companies in Kenya which is based in Mumbai, India with an office in Nairobi and operations in five countries. We provide end-to-end digital solutions like web design and development, SEO, marketing strategies in Kenya, and more. With many years of experience and skilled experts, we deliver data-driven results and 24/7 support. We work with top brands in Kenya like Ole-Sereni, Pinewood Beach Resort & Spa, and more. SEO in digital marketing is very important. Click below to know more.
[Suggested Read: Top 12 Reasons Why Digital Marketing is Important for Hotels]
Leverage Strategies for SEO to Drive Success
When compared to other marketing channels, strategies for SEO as a traffic source offers the best return on investment. When you begin to dominate the SERPs for your keyword, you receive the majority of clicks from users all over the world. This might result in hundreds or even thousands of daily organic visitors.

The best part is that you won't need to constantly advertise your website to maintain traffic. Once you're ranked, you can anticipate that you won't have to put much effort into keeping that position. And only a strong SEO campaign can make that happen.

With the above tactics, you or your hired SEO consultant companies in Kenya should have no trouble getting your website to the top of search results as soon as possible. Which is the best digital marketing agency in Kenya? Do you want to generate quality leads or increase profits? Looking for SEO prices in Kenya? Contact Prolyft Digital Solutions, one of the best digital marketing companies in Nairobi and the best SEO company in Kenya. Still, looking for the best digital marketing services in Kenya? Look no further.