Let's walk you through the essential steps to create a stunning and functional website using the popular CMS, WordPress. Whether you are a business owner or an aspiring web designer, this guide is designed to provide you with practical insights and actionable tips to help you build an impressive online presence in just 30 minutes. From selecting the right theme to web hosting, we've got you covered. So, let's dive in and unlock the power of WordPress for your website design in Kenya!
Image credit – https://www.manaferra.com
1. In 2023, WordPress powers 43.2% of the web.
2. 30% of the world's top 10 million websites are powered by WordPress.
3. The estimated number of plugins on WordPress Plugins is 60k.
4. There are at least 90k attacks on WordPress sites every minute.
5. 409 million people visit more than 20 billion WordPress.com pages monthly.
Step-by-Step Guide to WordPress Blog & Website Design in Kenya for Free
Do you not know Kenya website design experts? There are some good Kenya website designers. Are you not willing to spend some money? A simple website is good enough for your business? Here, we will tell you how to use WordPress for your blog and website design in Kenya so you can launch your site at a fraction of the cost and time and start running your business. Do you know the website cost in Kenya? Before that, click below for the best website design company in Kenya and website development company in Kenya.
1. Purchase a Domain Name
It costs less than $10 per year. The online address that visitors type to access your site is known as a domain name. The real address of your website can be found in the address bar at the top of your web browser, also known as a URL bar or location bar. Our domain name is prolyftdigital.com
How to Purchase Domain Names?
The best way to purchase a domain name for your website design in Kenya is to go to www.godaddy.com. They offer 24/7 customer care. Having technical support specialists on call 24 hours a day is priceless for any business.

It's now time to come up with a domain name. Finding a domain name that hasn't already been taken is difficult. Finding the ideal domain name could take you five minutes, a few hours, or even a few days if you're very particular.

Your name should be checked first. If you can't locate a website with your first and last name correctly spelled with a.com ending, think about adding a middle initial or just buying a different domain name extension like a.net or.biz.

If you must have a .com website, we advise buying any .com you believe is a good enough name to start with and set it up right away. You shouldn't worry too much about your first domain name because you can always upgrade it later for a few dollars.

In addition, you may push a button to migrate your website for free to a new domain name in the future. That implies you may migrate your complete website to a new domain name with hardly any downtime or lost traffic if you acquire a domain name today, create your website, attract plenty of visitors and clients, and then later decide you want to do so. Do you want to open ecommerce websites in Kenya? Do you want to know ecommerce website price in Kenya? Click below.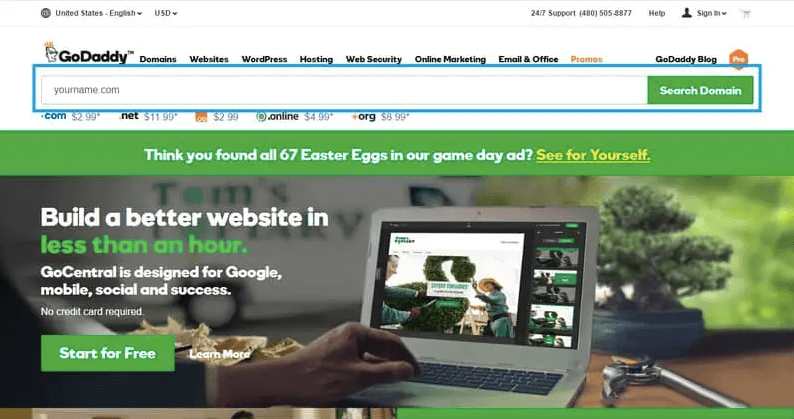 When you have a good idea for a domain name, just type it into the text field beneath the GoDaddy logo and press "Search Domain." "Yes!" will appear if the domain name is available. Your domain name is accessible. Before someone else does, purchase it.
The precise domain name you want must then be selected, the Select button must be clicked next to it, and then the Continue to Cart button must be clicked.
You will be taken to a box that asks, "What will you do with your domain name?" after clicking Continue to Cart.
Avoid the Upsells and Other Offers.
More options and upsells are available on the following screen, including domain privacy choices. Don't buy them unless you're certain you need all that extra stuff. At least 95% of people don't actually need the privacy settings or more domains. Once finished, select Continue with these settings by clicking the bottom button.
The checkout page is the last page, where you can look over your choices. GoDaddy automatically adds a 5-year term to domain name purchases and domain privacy. Change the term and remove the privacy subscription on this page if you don't want those other options. Just click Proceed to Checkout to buy the domain name if you're satisfied with the domain name and the settings you've selected.
After Purchasing a Domain Name
You now control a brand-new domain for your website structure. Your online fame is just getting started. It's time to buy a web hosting provider after you've bought your domain name so you can really host your website layout design at your new web address. Don't worry, it's less expensive than you think.
In order for other people to be able to access your website, you must pay someone else to store all of the files and data for your website. All of the files, images, videos, and text. Almost everything on your website is stored by web hosting.

Purchasing web hosting is similar to purchasing storage space because the provider maintains all of your belongings together, safe, and organized. If you ever become lost or confused, they can also offer tech help and walk you through the process of buying domain names, web hosting, and developing your site. Can't do it on your own? Looking for website designers in Kenya? Keep reading.
Do You Need Website Hosting Kenya?
Unable to find WordPress hosting in Kenya? There are also free blogs like Tumblr.com and Blogger.com, but due to specific limitations and rules, you can never monetize those websites nearly as successfully. For instance, many of these free websites don't allow you to post affiliate links or have opt-in forms unless you have your own web hosting.

You must have your own domain and web hosting if you're serious about creating a devoted online following and/or making sales of goods or services. If you're serious about developing a website that will support your work and goals, don't rely on a free service from a third party.

Now, we are going to show you how to set up your own unique website and blog using WordPress. This software is free and takes care of all the grunt work for you. And it only takes five minutes to install!
Image credit – https://www.tooltester.com/
How to Sign Up for BlueHost Web Hosting
First, let's visit www.bluehost.com. To register, click on Get Started Now. The choice of a plan comes next. You've got three choices. Basic, Plus, and Prime are available. If you are only creating one website, start out simple. Upgrades can always be made afterward.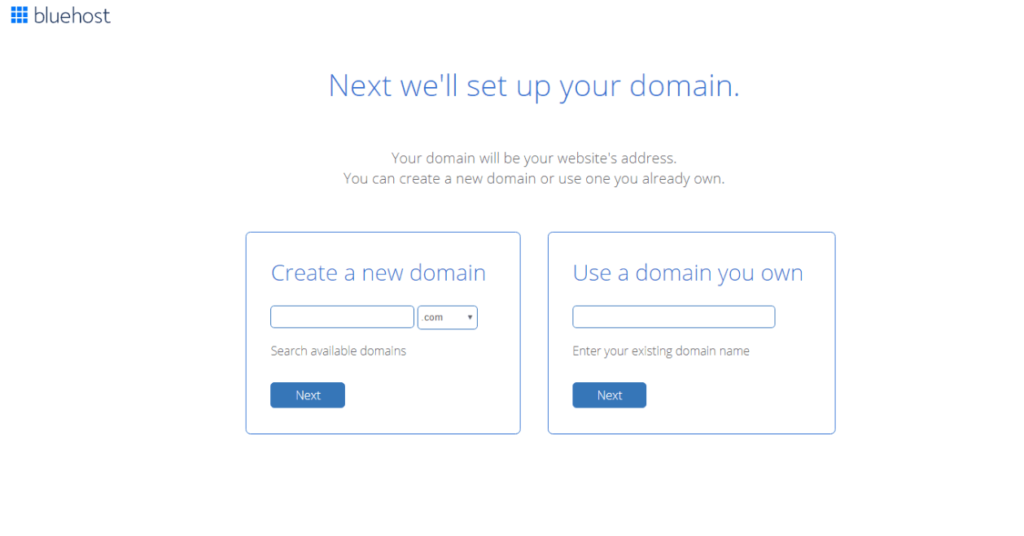 Image credit – https://www.websiteplanet.com
You will be taken to the "Create your account" screen after clicking the next button. It will ask you to finish your profile. Just be sure to fill out the right fields, and then click the Submit button at the bottom to finish the transaction.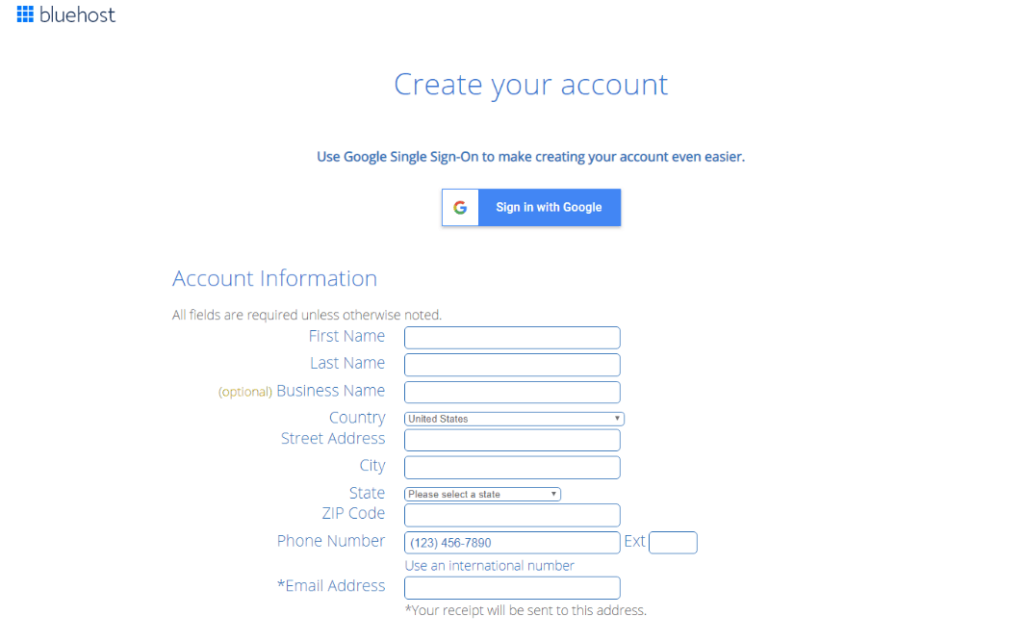 Bluehost offers great customer support that is available 24/7, so you can call them at any time if you have any issues with any of these processes or anything else relating to your website. Good job! Your personalized, self-hosted WordPress website and blog are now halfway set up. Now, we can proceed with the best website design in Kenya.
The installation of WordPress through your web host is the third step before you start with website design in Kenya. You must first add the domain in your Bluehost account's Control Panel (called cPanel), as you are adding a brand-new domain. Enter the domain name or your username and password on the hosting login page. Select "Submit." Then, set up a WordPress cPanel login.
Steps to Set Up WordPress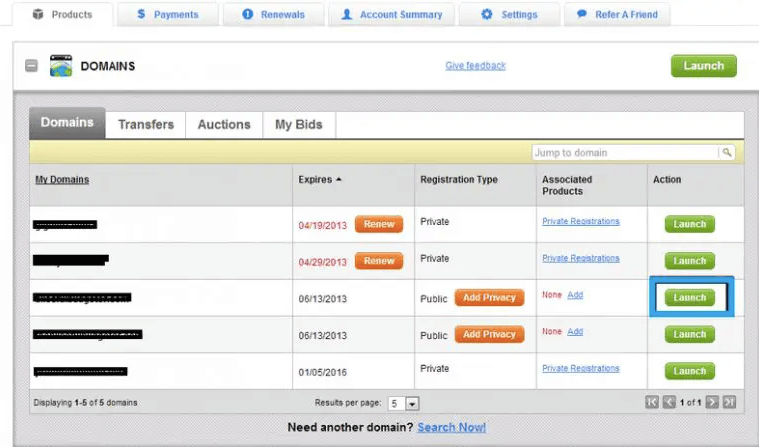 After logging in, select the Domains > Domains List tab, and then click the "Assign a domain to your cPanel Account" link under Shortcuts. Enter your domain name by selecting "Use a domain that is not already associated with your account" on the Assign a Domain screen. By linking the domain's nameservers to those of your new web host, you can "Verify Ownership" of the domain.
Just copying and pasting the nameservers (a short text string, such as ns1.bluehost.com and ns2.bluehost.com) from Bluehost into your Godaddy account is all that is required. Log into your account at www.godaddy.com once more. Once you've logged in, just select the Products > Domains page and click the Launch button on the row that contains the domain you're trying to set up with Bluehost.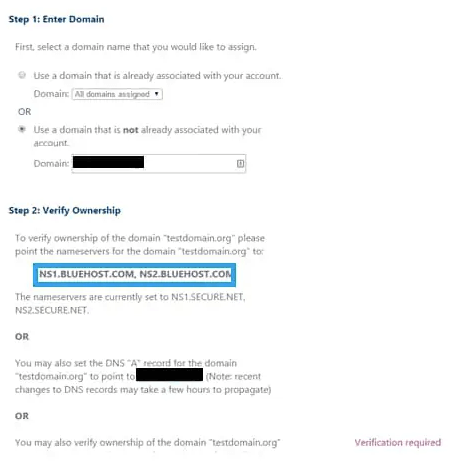 The "Domain Information" window opens as a result. The link to Set Nameservers can be found here. To access the "Set Nameservers" panel, click that link. Copy the two nameservers provided under "Step 2: Verify Ownership" on the Bluehost "Assign Domain" screen. Once you have the nameservers' details, return to Godaddy's "Set Nameservers" window and select "I have a specific nameserver for my domains."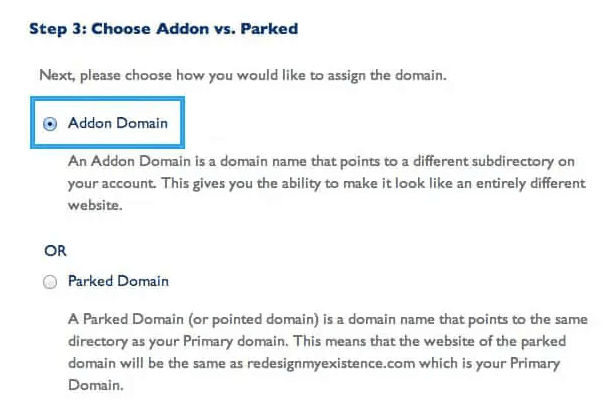 Enter the data in the "Nameserver 1" and "Nameserver 2" text boxes, then click OK. This will confirm the ownership of your domain after you click OK. In most situations, it might take around five minutes. The decision between Addon and Parked must be made next. A parked domain is one that points to a different subfolder as your primary domain, whereas an addon domain points to a separate subdirectory on your account. We advise selecting "Addon Domain" because it enables you to make it appear to be a completely different website. Looking for website developers in Nairobi? Wondering what's the website maintenance cost in Kenya? Keep reading.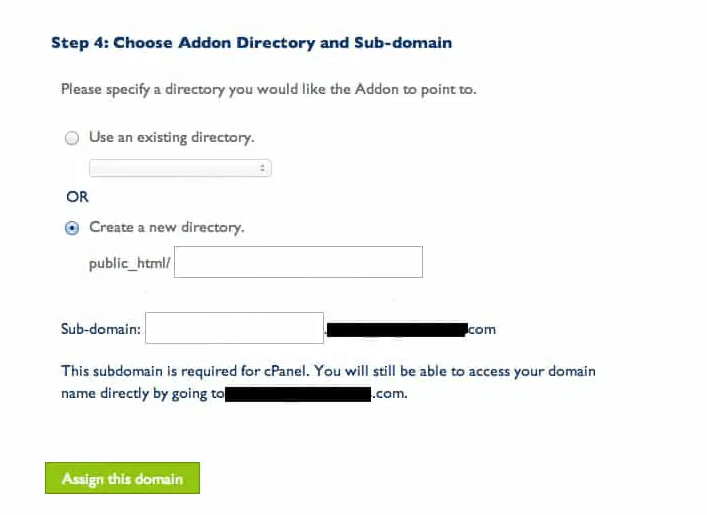 Select the account folder to which the domain will point in the following step. Essentially, you must inform Bluehost whether you want to host your new website in an existing directory (i.e., a server folder) or in a new directory. Just click "Create a new directory" if you have no idea what any of these technical words mean. To complete the process, click the Assign this Domain button.
Your domain server is currently pointing to Bluehost. As a result, technically speaking, your website is already up since Bluehost is currently hosting your domain on its servers. It's time to set up WordPress so you can use its themes and plugins to create a website that's free and tailored to your needs. Finding the best WordPress free ecommerce theme? Click here.
Click on the Hosting > cPanel tab in Bluehost's Control Panel. "WordPress" will be listed under Site Builders; just click on it. The screen that follows is labeled "Install WordPress." We must click the Install button because this is for a new installation. The WordPress installation must now be finished. Choose your installation preferences as the initial step. You can choose to install WordPress on your blog or the website homepage in the "Where would you like it installed?" option.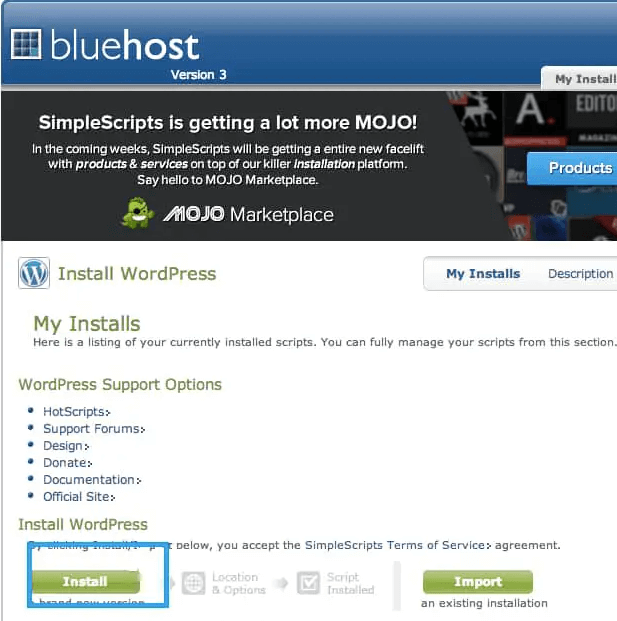 You can choose to install it only on yourname.com/blog if you want your homepage to be something different, such as a sales page for your book or something like a squeeze page. The majority of people want their entire website to be a blog, but you may later update the main page using a number of free and paid tools.
You can just install WordPress directly on your domain by leaving the "/" field empty (this is the option we advise for 95% of people, especially if this is your first website). You can choose which Plugins and Themes to install on WordPress under "Step 3: Plugins and Themes." These choices are available for selection or deselection. You can always uninstall the plugins if you decide not to use them.
The final step is to check the "I have read the terms and conditions of the GPLv2 license agreement" box to accept the terms and conditions. Next, select Complete. WordPress has now been successfully installed. You'll receive an email from SimpleScripts with the subject "WordPress Access Information" after installing WordPress. Your domain's WordPress login page will be included in this email.

The URL will resemble www.yourname.com/wp-admin. Your login name and password will also be included in the email, which you can modify whenever you like. It's time to write and publish your first blog content now that WordPress is set up.
4. Get Started with Blogs
Go to your WordPress login page (which is always located at www.yourdomain.com/wp-admin). Enter your Username and Password, and then click Login to start writing your first blog post. When you log in to the blog administration section, the first screen you see is the Dashboard (wp-admin). Here, you can see a summary of what's going on with your blog.

Since your website is new, you won't see anything just yet, but that's good. In the large text box, type your article's title and body text. The larger box is where you'll write the content of your blog post, and the post title will define the title that is displayed on your site. After finishing your first blog post, just click "Publish" to submit it. Blogs and website design in Kenya are important as well. Hire website designers in Nairobi for the best results if you don't have technical expertise. Also, need an SEO company in Kenya?
6 Tips for a Successful Launch & WordPress Website Design in Kenya
Image credit – https://www.manaferra.com/
Website development and website design in Kenya are crucial. Searching for website design companies in Kenya? Read till the end. Here are some ideas that can assist you in building a website, whether you're an author or a business owner.
Your brand and image must be developed through website design in Kenya. Your audience will better grasp who you are, what they can expect from you, and what sets you apart from other authors if you have a strong brand. The written content on your website is one of the brand factors, along with visual elements like your logo and color palette.

Readers are motivated to discover more about you and your work by your brand, which explains who you are and what you stand for. It has to be a true reflection of who you are and what you do.
2. Make an Author Biography Page.
You have a chance to express your personality and establish a personal connection with your website visitor on the "About" page. Use your writing skills to craft a biography that captures your personality rather than one that is dull. You don't have to talk about all of your successes or even make a list of everything you've done since you were a child. Always keep in mind that website visitors who read your biography page also think about "what's in it for me?"

As you share your tale and describe your personality, keep on topic and write in your own voice. Start with an alluring hook, and end with a compelling call to action, such as signing up for your mailing list or purchasing your most recent book.
"Social proof" is a trend where people imitate behaviors they observe in others. They often believe that others know more about the subject than they do" as per Search Engine Journal. In essence, a website visitor is more likely to buy from you in the future if they read a positive review of your book or company in a well-known magazine.

Social proof helps create your authority and credibility by fostering trust besides website design in Kenya. You should include social proof on your homepage, about page, book page, and, if you have one, in the sidebar as well.
Converting website visitors into leads and customers is one of your website's main goals. These are the people who are going to be your loyal customers, spread the word about your new releases and other news through social media, show up to your book signings, post reviews on Amazon, and purchase your books.

Offering them something of value for free, such as tutorials, courses, or PDF downloads, will help you grow your mailing list. Maybe you could give subscribers a discount on your upcoming book or a sneak peek at the first few pages. Encourage them to subscribe to your blog updates or a monthly email if you run a blog, and let them know when new books are out.
5. Inform Them Where They Can Find You
So that people may contact you right away after seeing your website, add a contact page as a tab to the main menu bar. Visitors can contact you by completing the required fields in the contact form located here. Make sure the form is simple and refrain from including too many pointless questions. If you have social media accounts, include links to them on your website so that visitors may follow you there.
Besides website design in Kenya, the purpose of a media kit is to provide journalists, bloggers, reviewers, and marketers with everything they need to know about you on one page so that they may write about you. Making it simple for people to find details about you is the goal. In order to help them produce an article about you, provide your brief biography, a list of all your published works, and high-quality images.
[Must Read: 13 Practical Ways to Use ChatGPT for SEO in Kenya]
Get in Touch with Prolyft Digital Solutions for WordPress Website Design in Kenya
Want to know more about creating a successful website design in Kenya? Need an expert with technical know-how? Want a skilled team to help you with SEO after building your website? Or just looking for website design services in Kenya? Contact Prolyft Digital Solutions, one of the best digital agencies in Kenya for start-to-end digital solutions like social media, content marketing, video marketing, SEO, SEM, lead generation, and more.

Want to know the website design cost in Kenya? Or ecommerce website developers in Kenya? We are based in Mumbai, India with an office in Nairobi and operations in five countries. We have worked with major hotel brands like Golden Tulip, Ole Sereni, Club Four Points, and more. Just write a comment below if you have any concerns about any of these stages or creating your website, and we'll be pleased to help you acquire all the details you need to succeed!